Monthly Updates
From Guardian Vaults
Diwali Festival in Australia
How One of the World's Biggest Religious Festivals Caught On Down Under
The mercury is rising in the thermometers once again; winter seems like a lifetime ago, and thoughts are turning towards summer and all the joy that the season brings. This means, for the more than 400,000 Hindus in Australia, and for countless more Australians who count Hindus among their friends, workmates, and family members, the festival of light is on its way.This is, of course, Diwali; an age-old religious holiday which celebrates the forces which support life on Earth, as well as the Devas, or gods, and their struggle against Asuras, or demons. Typically, Diwali with the lighting of candles and lamps, the setting off of fireworks, and numerous other events and festivities across the multi-day event.
Diwali also carries major significance in other cultures, including Jainism, in which it recognises the spiritual awakening of Lord Mahavira in 527 B.C, and Sikhism, where it represents the Guru Hargobind Ji's release from imprisonment. While the different faith groups celebrate in different ways, the sense of cultural importance and mutual respect is shared between all of them.
As the festival approaches for another year, we have created this handy guide to help you understand what Diwali means to modern Australians and to illuminate the long and complex history of a festival which is of such profound importance to followers of our nation's fastest-growing religious faith.
What is the history of Diwali?
As with any festival with origins so deeply entwined in an ancient culture, it is incredibly difficult to ascertain exactly when Diwali began, or what it was originally intended to celebrate. Historians agree that Diwali has been marked by South Asian peoples for at least two-and-a-half millennia, and that — during these years — the festival has been connected with many different stories from India's various religious texts and traditions.
A common theme from these stories is the battle between good and evil, and the subsequent triumph of the forces of light and piety over their malignant foes. It is pleasing to see that, even over 2,000 years ago, humanity was already rooting for the good guy, in the same way we might do today when enjoying a piece of cinema or a novel.
One such story involves the kidnap of Sita by an evil king in a land known as 'Lanka' — possibly today's Sri Lanka. Sita's husband Rama, aided by an army of monkeys, built a bridge from India to Lanka and rescues his bride. The couple is then guided back to their home in the north by millions of lights scattered across the city of Ayodhya.
This charming tale is just a piece of the broad architecture or myth, legend, and allegory which surrounds Diwali today.

Diwali in Australia
Diwali in Australia is celebrated in much the same way in might be celebrated in South Asia, or in one of the Hindu communities across Europe or the United States. One key difference could be the season — in the Northern Hemisphere, Diwali is an autumnal festival, marked by shortening days and falling temperatures; down here in Australia, it is celebrated just as summer is getting into full swing.
Aside from the weather, though, an Australian Diwali is basically the same as Diwali in Mumbai, Massachusetts, Manchester, or Minsk. Families come together to celebrate, and to observe the religious rituals which have enabled the holiday to retain its deep cultural significance for so many centuries.
The holiday itself lasts for five days, with each day possessing a significance all its own.
On the first day, cleaning takes place, as the home is prepared for the festivities to come. This custom may have its roots in practicality but has taken on a far more profound importance over the centuries. The first day of Diwali is also considered an auspicious day to shop for gold items or kitchen equipment.
The second day of Diwali is the day of decoration, when clay lamps are placed around the home, and powders and coloured sand is used to create rangoli patterns on the floors of homes. The clay lanterns — in some traditions — mirror those that lit the homecoming of Rama and Sita in the ancient tradition.
On the third day, families come together, and a prayer is offered to the goddess Lakshmi. The prayer — known as Lakshmi Puja — is one of the most venerable of all the Diwali customs, and is among the most important parts of the festival for Hindus. Feasting usually follows the prayer, as well as fireworks displays.
On the fourth day, the transition from the old year to the new takes place. This is when friends and family members visit one another, bringing their gifts and best wishes to ensure the best possible start to the new year. At Diwali, the extended family is of great importance, so these traditions help to reinforce that spirit of togetherness, solidarity, and of course, great times spent with one another.
The fifth and final day of Diwali is when, traditionally, brothers will visit the homes of their sisters who have been married. The sister and her new family will provide a meal for the brother, and together they will mark the end of the Diwali period.
Traditions vary from place to place, and different families and communities will have their own Diwali customs. However, this is a rough guide to how Diwali is celebrated both in Australia, and throughout the world.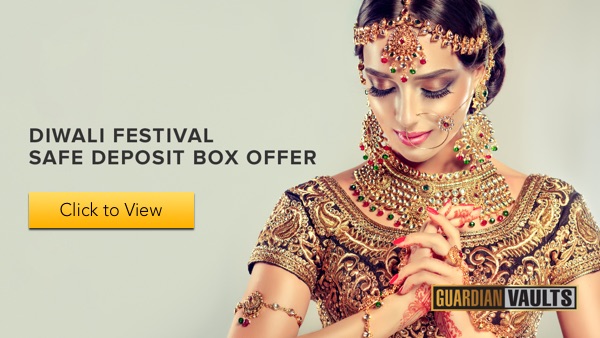 Disclaimers: Guardian Vaults Holdings Pty Ltd, Registered Office, Scottish House, 100 William Street, Melbourne, Victoria, 3000. ACN 138618176 ("Guardian Vaults") All rights reserved. Any reproduction, copying, or redistribution, in whole or in part, is prohibited without written permission from the publisher and/or the author. Information contained herein is believed to be reliable, but its accuracy cannot be guaranteed. It is not designed to meet your personal situation. Guardian Vaults, its officers, agents, representatives and employees do not hold an Australian Financial Services License (AFSL), are not an authorised representative of an AFSL and otherwise are not qualified to provide you with advice of any kind in relation to financial products. If you require advice about a financial product, you should contact a properly licensed or authorised financial advisor. The information is indicative and general in nature only and is prepared for information purposes only and does not purport to contain all matters relevant to any particular investment. Subject to any terms implied by law and which cannot be excluded, Guardian Vaults, shall not be liable for any errors, omissions, defects or misrepresentations (including by reasons of negligence, negligent misstatement or otherwise) or for any loss or damage (direct or indirect) suffered by persons who use or rely on such information. The opinions expressed herein are those of the publisher and/or the author and may not be representative of the opinions of Guardian Vaults, its officers, agents, representatives and employees. Such information does not take into account the particular circumstances, investment objectives and needs for investment of any person, or purport to be comprehensive or constitute investment or financial product advice and should not be relied upon as such. Past performance is not indicative of future results. Due to various factors, including changing market conditions and/or laws the content may no longer be reflective of current opinions or positions. You should seek professional advice before you decide to invest or consider any action based on the information provided. If you do not agree with any of the above disclaimers, you should immediately cease viewing or making use of any of the information provided.
Please provide your details and we will contact you to discuss your needs.
[contact-form-7 id="1402" title="Form1 - Enquire Now"]
Please provide your details to reserve space at Guardian Vaults.
[contact-form-7 id="1402" title="Form1 - Enquire Now"]
Please provide your details to reserve space at Guardian Vaults.
[contact-form-7 id="1853" title="2018 - Sydney Deposit Box"]
Please provide your details to reserve space at Guardian Vaults.
[contact-form-7 id="1854" title="2018 - Melbourne Deposit Box"]
Please provide your details to reserve space at Guardian Vaults.
[contact-form-7 id="1856" title="2018 - Sydney Safe Box"]
Please provide your details to reserve space at Guardian Vaults.
[contact-form-7 id="1855" title="2018 - Melbourne Safe Box"]